Coptic binding or Coptic sewing comprises methods of bookbinding employed by early Christians in Egypt, the Copts, and used from as early as the 2nd century AD to the 11th century. The term is also used to describe modern bindings sewn in the same style.
Coptic bindings, the first true codices, are characterized by one or more sections of parchment, papyrus, or paper sewn through their folds, and (if more than one section) attached to each other with chain stitch linkings across the spine, rather than to the thongs or cords running across the spine that characterise European bindings from the 8th century onwards. In practice, the phrase "Coptic binding" usually refers to multi-section bindings, while single-section Coptic codices are often referred to as "Nag Hammadi bindings," after the 13 codices found in 1945 which exemplify the form.
A saddle stitch is appropriate for small booklets and, in general, for volumes with only a few pages. Most magazines that are not glued are saddle stitched: that is, they are held together by staples that run through the gutter. Once the pages are aligned and in the right order, this type of binding is quite straightforward. Staplers with extremely long jaws, designed specifically for saddle stitching, are available in office supply stores. Some photocopiers produce saddle-stitched volumes automatically.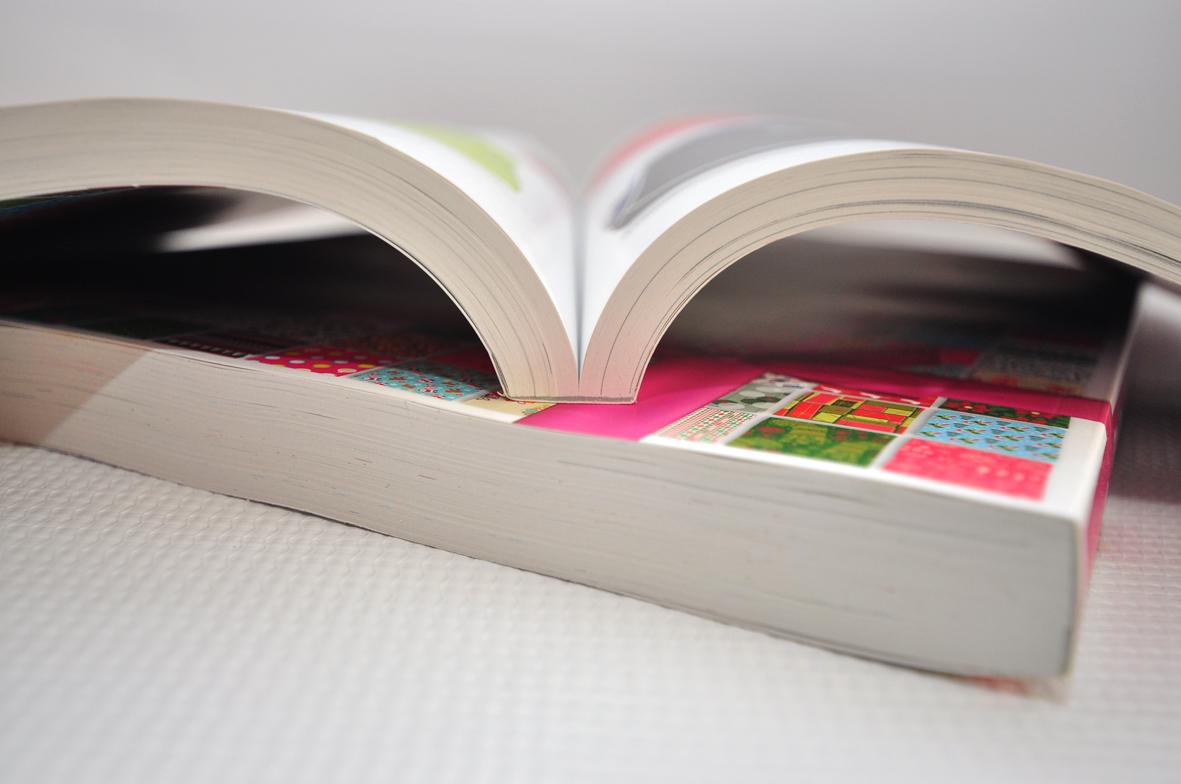 Perfect binding is often used, and gives a result similar to paperback books. National Geographic is one example of this type. Paperback or soft cover books are also normally bound using perfect binding. They usually consist of various sections with a cover made from heavier paper, glued together at the spine with a strong glue. The sections are milled in the back and notches are applied into the spine to allow hot glue to penetrate into the spine of the book. The other three sides are then face trimmed. This is what allows the magazine or paperback book to be opened. Mass market paperbacks (pulp paperbacks) are small (16mo size), cheaply made with each sheet fully cut and glued at the spine; these are likely to fall apart or lose sheets after much handling or several years. Trade paperbacks are more sturdily made, with traditional gatherings or sections of bifolios, usually larger, and more expensive. The difference between the two can usually easily be seen by looking for the sections in the top or bottom sides of the book.
Case binding is the most common type of hardcover binding for books. The pages are arranged in signatures and glued together into a "textblock." The textblock is then attached to the cover or "case" which is made of cardboard covered with paper, cloth, vinyl or leather. This is also known as perfect binding, cloth binding, or edition binding.